The Dashboards can be shared internally with other users or externally by sending a public URL link. This link can be accessed by the recipient without a TolaData user account.
Users who have the ability to share Dashboards are 'Dashboard Admins' and 'Edit Access' users.
How to change permissions to allow users to share dashboards
Users with 'Dashboard Admin' status can add and change permissions of other users by clicking into the 'teams' tab within the Dashboard. The admin can also change their own permission, limiting their own powers.
Permission level information can be found here.

How to share dashboard with external stakeholders
To share your dashboard click the tab 'Settings' tab located in the top bar of your Dashboards.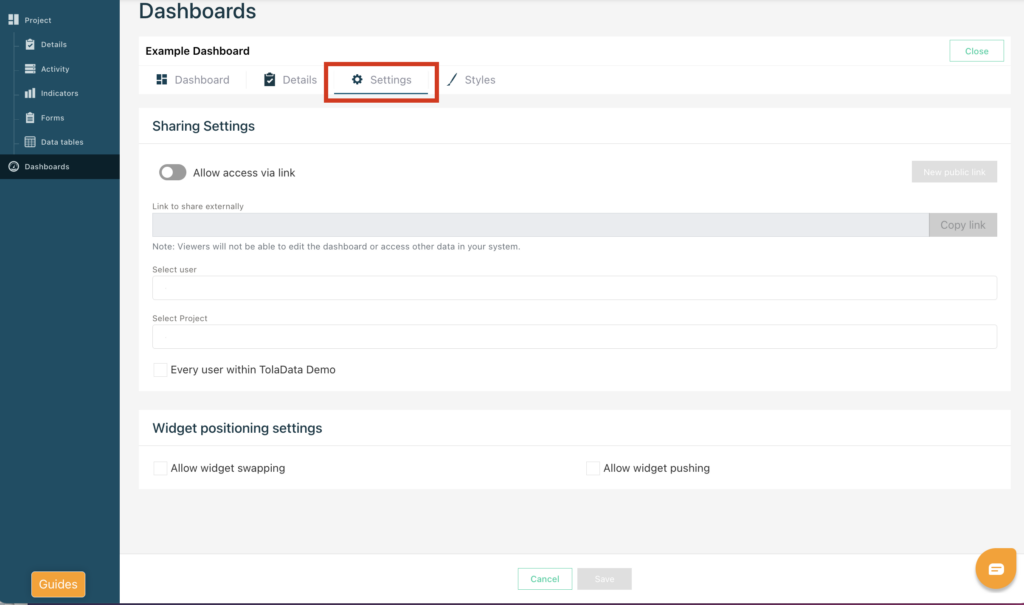 You will see a link to share the dashboard externally, below the 'Sharing Settings' title. This is a unique unguessable URL, so it is secure. You can choose to switch the public link 'on' or 'off' to determine if the public can view the dashboard.
You can easily share the link by clicking 'Copy link' and then emailing it to stakeholders or embedding it in another website to make the dashboard visible publicly. People who have the public URL can see the latest results and all data on the dashboard but cannot edit it or access any other parts of TolaData.
How to share dashboard with other users
You can share the dashboard with other TolaData users from your organisation. Select the names of the users one by one or you can select all users within a project team. You also have the option to check the box to share the dashboard with all users of your organisation.