GIZ RYE Global Project:
Multi-Country Monitoring for Rural Youth Job Creation in Sub-Saharan Africa

GIZ is implementing a programme on behalf of the German federal government to promote rural youth employment (RYE) in four Sub-Saharan countries: Kenya, Burkina Faso, Malawi and Mozambique.
RYE coordinators sought an M&E tool for data collection and aggregation to streamline the multi- country tracking at the activity, output and outcome levels. It was also essential for staff at the global programme level to be able to generate insights from disaggregated data and time-based results, and to visualise programme progress on dashboards.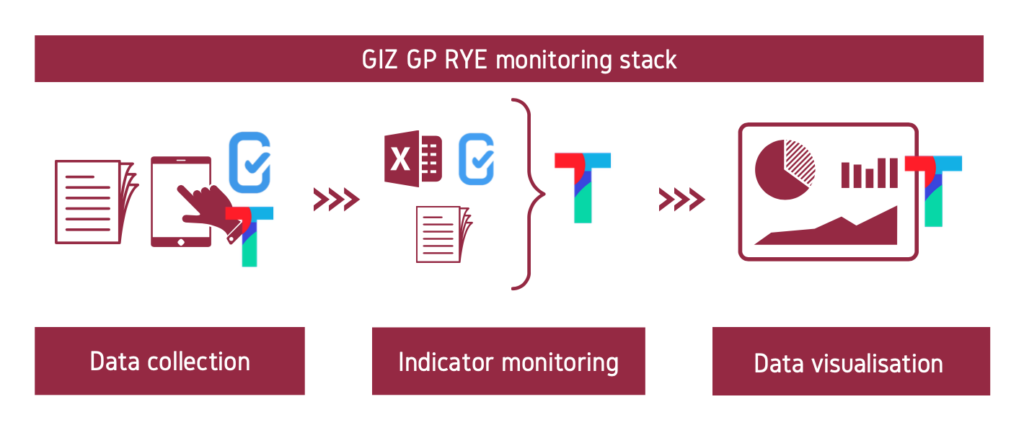 The RYE team selected TolaData from a list of candidates following a thorough tender process, which included a GIZ review of the platform's data security. Through TolaData and in combination with KoboToolbox, GIZ has built a fully-digital data process – from field to dashboard – to track and report on granular and aggregated data for the entire RYE programme across the four implementation countries.
Utilising the data collected with KoboToolbox and analysed through TolaData, RYE staff are delivering data-driven learnings to steer the multi- country project implementation, report to key stakeholders and donors, and guide future development programming in the area of rural youth development.
Youth Job Creation, Sustainable Rural Livelihoods, Agrifood