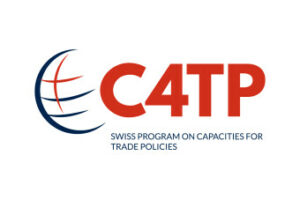 How The Swiss Program on Capacities for Trade Policies Project Uses TolaData to Monitor Progress Across Multi-Country Programs
"TolaData is enabling us to precisely track progress in each of the countries, along with summing up the results in the overall program view."
The Swiss Program on Capacities for Trade Policies (C4TP) project is a multi-country initiative implemented by the Swiss Government through their State Secretariat for Economic Affairs (SECO). The project works with 13 partner countries around the world to improve their trade policy-making capabilities. Trade-policy makers are given the opportunity to improve their skills and knowledge in order to make better decisions that can have a positive impact on economic growth and development.

By accessing high-quality data on trade and building up human capacities for trade policy negotiations and implementation, the project seeks to increase the contribution of trade to sustainable development and poverty alleviation.

The program is being implemented in several countries around the world, including Serbia. In Serbia, organization and administration manager, Nikola Milosavljevic, uses TolaData to help with the difficult task of monitoring progress and success across the project's numerous activities.
Location: Global and selected SECO partner countries
Duration: 2021 – 2024
Main funding partner: Switzerland (SECO)
Implementing partners: GFA Consulting Group and St. Gallen Endowment for Prosperity through Trade
Monitoring and evaluation is always a challenge, but it becomes even more complex when working on a project with many different countries and partners involved. There are a lot of moving parts to keep track of, and it can be difficult to get an overview of what is happening across the whole project.
There are also many different stakeholders involved, each with their own agendas and priorities. It can be difficult to get everyone on the same page and working towards the same goals. Having a clear understanding of what data to collect, how to collect it, and how to use it to make informed decisions about the project, can prove to be a challenge in itself, as data collection methods and tools vary from country to country.
In addition, it can be difficult to get timely and accurate data from all of the different partners involved in the project. Delays in data collection can lead to delays in decision-making, which can ultimately impact the success of the project.

To address these challenges, SECO decided to use TolaData to help with the monitoring and evaluation of the C4TP project. As a flexible, web-based platform that can be used to collect, track, and analyze data. TolaData is easy to use and customizable, which makes it ideal for a project like C4TP.
The project team is using TolaData to collect data on a variety of indicators, which is then used to generate reports and dashboards that give the team an overview of what is happening across the project. TolaData has also been used to create reports and dashboards that provide an overview of the project's progress. These reports and dashboards have been shared with SECO and the other partners involved in the project, and have been used to inform decision-making about the project.
"At the beginning of the project, we used TolaData to sketch our pretty complex framework and define key indicators, outcomes and outputs... For us, an additional benefit is an option that enables us to share key data with the stakeholders by having a results dashboard that can be publicly shared. Also useful - having a survey/form tool that can be used to collect data."
If you're interested in learning more about TolaData and how it can be used for monitoring and evaluation, please don't hesitate to contact us. We'd be happy to chat with you about how TolaData can be used for your project. Get started by interacting with the video below.